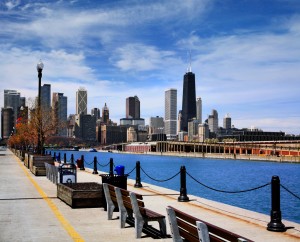 If you are looking for awesome Mediterranean food in a casual dining atmosphere, then check out Reza's Mediterranean Restaurant in Chicago. With three Chicagoland locations to serve you (Andersonville, River North, and Oak Brook) you will not be disappointed by the menu, ambiance, or price. There is something for every diner with a menu that features more than 20 vegetarian dishes, as well as chicken, steak, and seafood options. A party of two can have a good meal with appetizer, main course, and desert for under $50.
The lunch and dinner menu differs in portion size and price. The menu features a variety of options from appetizers that are large enough to be shared with two or more guests, to homemade lentil soup, salad wraps, and traditional Mediterranean fare. Their signature beef, chicken, and lamb kabobs are available during both serving times. Perfect in both season and portion size, the kabobs are a must try! On weekends they offer a buffet which allows patrons to sample dishes before committing to full portions.
The three locations share the same menu but offer unique dining experiences.
The Andersonville location, at 5255 North Clark Street, is the restaurant's original location. The dining room at this location is bright and inviting. Large front windows open to outdoor seating in good weather and provide a wash of natural light throughout the other seasons. The wait staff is warm and inviting and the location is easy to access via public transportation.
The River North location, at 432 West Ontario, is slightly off the beaten path. Located in an area that makes it good for business lunches it is not as convenient a space if you are driving. There are several parking lots nearby with rates that vary depending on time of day and day of the week. The location itself is spacious and inviting. The ambience is a bit darker than the Andersonville location and offers loft-like feel to the dining room.
The suburban Oak Brook location, at 40 North Tower Road, is perfect for corporate and holiday parties. Whether patrons are seeking to dine in a small party or to utilize one of their party rooms, this location offers the perfect meeting place for its guest.
All three locations are open Sunday-Thursday from 11am-11pm, Friday and Saturday from 11am-12pm.