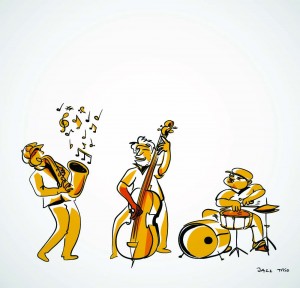 If you have ever been to the Green Mill Jazz Club in Chicago's Uptown neighborhood, then you know what it is like to experience live jazz in an intimate venue. Located at 4802 North Broadway, the Green Mill has been host to artists from Von Freeman and Kurt Elling to Chicago's own Orbert Davis. Ultimate Excursions invites you to come with us as we explore this unique and popular Chicago destination.
Though it is known for the music, it is perhaps the history of the venue makes it most interesting. Patrons often go for the lore and stay for the music. The venue is known not only as the longest running Chicago night club (it has been in business since 1907), but also as a favorite hangout of Al Capone's. Former club owner, "Machine Gun" Jack McGurn, was notoriously one of Capone's henchman. McGrun had quite the reputation as a bad guy and there is a lot of local lore associated with him and his time at the Mill. (If you are interested in finding out more about this, check out www.weirdchicago.com/greenmill.html ). A series of tunnels that run beneath the building were used as a quick escape route by McGrun and Capone during raids that often happened during prohibition. The tunnels still exist and are accessible via a trap door behind the bar that lead out to several escape routes on nearby streets.
Their website has a running list of performances, however, there is no set price for the shows. Tickets range in price from $4-$15 depending on the artist and it is best to reference the site for your artist of interest. Tickets are for sale at the door the evening of the performance. Unlike other jazz venues in the city, the management does not turn over the house after each performance and the bar is open early for patrons to come in for a drink. The venue operates on a cash only basis and has a cash machine on-site if you should happen to forget to grab some ahead of time. Like several of the performance based bars in Chicago, the Green Mill does not have a kitchen. There are, however, a number of great restaurants within walking distance. Whether you are in the mood for Thai, African, or American cuisine, you will find something for your liking in the Uptown neighborhood.
Free parking is available and accessible to patrons from 6pm-6am. If you are taking public transportation, the Lawrence Red Line stop is less than a block from venue. Hours of operation are 12 pm-4am Monday-Friday, 12pm-5am Saturday, and 11am-4am Sundays. You must be 21 to enter and proper ID is required. More information at greenmilljazz.com or 773-878-5552.