South Dakota has a variety of festivals.
Plenty of opportunities to entertain and occupy your family this spring and summer. From a series of festivals celebrating local artists and musicians to Ribs, Rods & Rock 'n Roll, South Dakota knows how to keep visitors coming back for more.
Brookings Summer Arts Festival: Brookings
Held each year in Pioneer Park, the Brookings Summer Arts Festival is South Dakota's premier juried art fest. Over 200 artists come from across the nation to display their original handiwork, crafts, and wares. The works cover 17 disciplines of art and include forty-two gourmet and ethnic food booths to appease any palate. The festival also includes historic and antique displays that represent and celebrate the heritage of the state. Families with children can look forward to the children's area in the middle of the park that includes educational, art, music, and all-around fun activities. Both days also include a variety of musicians and entertainers at the park band shell and on various stages throughout the festival. Check out the website at basr.com for a listing of artisans and addition information about the festival.
The 12th Annual Ribs, Rods & Rock 'n Roll Festival: Vermillion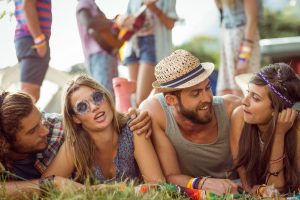 This rib fest is known regionally as "one you don't wanna pass up!" Now in its 12th year, this annual festival takes place at the end of summer and features live music, a beer garden, a family fun area, a slew of vendors, BBQ, and a Classic Car Show. Top BBQ competitors in the last couple of years have gone on to compete and place in the top five of the national cook-off contests. The food is amazing, the music is entertaining and the beer tent has a large selection of brew. It is a great outing for the family and one that definitely do not want to miss.
Bash to the Colonies: Yankton
The Bash to the Colonies Sailboat Regatta is a friendly competition held each year in Yankton. Sailing enthusiasts compete on the Lewis and Clark Lake and enjoy a weekend of sailing, food, music and entertainment. All of the proceeds from the event go to help the local chapter of the Special Olympics. The regatta was organized to promote and encourage fellowship and friendship, as well as to share the love of sailing in a fun, safe, and friendly atmosphere. Information about this year's festivities is available at bashtothecolonies.com.