Vancouver, British Columbia…
Is home to unique architecture, scenic landscape, a burgeoning arts and music scene and awesome food. There are several reasons to visit this culturally-rich city. Here are few suggestions to get you headed in the right direction.
Stanley Park
The city's largest urban park and a national historic site, Stanley Park is a favorite of the locals. It is known as an urban oasis in the midst of the city, where one can go to watch birds, play tennis, golf, play on the beach, or just enjoy some alone time. The park is home to several Native American totem poles and art pieces. Visitors can catch a ride on a mini train or travel through the park via horse and carriage, as well as explore on foot. In addition to the natural beauty, it is also home to Canada's largest aquarium, a spot that is well worth exploring.
The Museum of Vancouver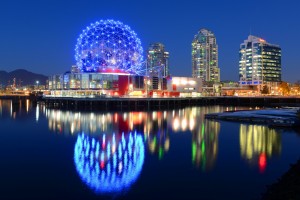 On Chestnut Street in Vanier Park you will find the oldest museum in Vancouver. Founded in 1894 the Museum is devoted to Vancouver-related exhibitions and programs. The permanent collection includes over 65,000 items that represent nearly a century of various stages of the city's history. In addition to the permanent collection the Museum rotates contemporary exhibits that feature modern artworks. Information about hours and current exhibits can be found online at museumofvancouver.ca.
The Vancouver Aquarium
One of Vancouver's most popular attractions, the Vancouver Aquarium is a center for marine conservation, research, and animal rehabilitation. One of the largest in North America, the space covers over 100,000 square feet and is home to 50,000+ animals. There are a number of galleries and habitats available to visit in the facility. Many of the mammals that are housed at the Aquarium have been brought there because they were wounded or in need of rehabilitation and are returned to their native habitat after they have healed. More information is available at vanaqua.org.
Vancouver Food
This city is known for exceptional eateries, so it should come as no surprise that they offer food tours. There are tours available that include as many as 14 tastings and a four course meal and tours that include the city's best food trucks. It is a great way to get a sampling of the local eateries and to get a better understanding of how the city presents its local fare.
These are just a few examples of what awaits you in this beautiful city. Take some time to get out and explore all that Vancouver has to offer.