Half Moon Bay is a coastal town that sits on the Pacific Coast Highway along one of the most beautiful coastlines that you will find in Northern California.
Less than a half hour drive from San Francisco, this coastal oasis has a wide variety of attractions to draw travelers into town and off the highway.
Whether you are seeking a romantic weekend getaway or looking for a high-end coastal resort experience, there is something for every traveler. Lodging in the town includes budget-friendly chain hotels, as-well-as independent bed and breakfast options. Regardless of where you lay your head, you will find your visit pleasant and calming. Local businesses, beaches, and parks are easily accessible and it isn't unusual to see a horse or two being ridden through the town. The historic downtown area is filled with shops, galleries, restaurants, and wineries.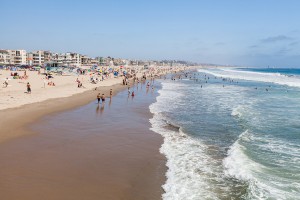 The great part about this town is that there is no bad time of the year to plan a visit. The location of the town keeps temperatures moderate and comfortable year round. Not only does the mild climate make for ideal living it is also great for growing local produce, sold at roadside stands throughout the area and for producing some noteworthy regional wines. In addition, in the fall the annual Pumpkin Festival draws in hundreds of visitors from nearby cities who come to enjoy the arts, crafts, and celebration.
Any trip to Half Moon Bay would be incomplete if you did not take the time to explore the beaches. The coastline is beautiful as are the beaches and the three-mile-long Coastside Trail. Whether walking, running, or riding a bike, the trail can be used to travel to and explore Francis Beach, Venice Beach and Dunes Beach, the three beaches that make up Half Moon Bay State Beach.
Regardless of when you plan your trip to Half Moon Bay, you will find a welcoming community who are happy to have you as a guest. The residents have created place where visitors feel welcome and local residents have worked together to develop a strong sense of community.