Los Angeles, California is a beautiful city that can seem overwhelming to a budget-minded traveler.
With its celebrity-driven status and high-end stores, those on a tight budget might feel like this is not the spot for them. That, however, could not be further from the truth. This vibrant city has something spectacular to offer everyone. Here are a few budget-friendly suggestions to get you out and exploring.
The La Brea Tar Pits
In 1875, a group of paleontologists discovered animal remains in the pits at Rancho Le Brea. 130+ years later they are still pulling fossils out of the petroleum lake under Hancock Park. Millions of fossils have been discovered in the park and there a believed to be many, many more still waiting to be found. Excavation tours are available for a cost, but you can explore the tar pits for free.
The Griffith Observatory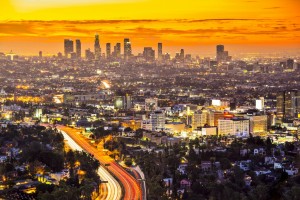 First and foremost, go to the observatory at night when you have the best views of Los Angeles lit up below. The facility itself closes at 10 pm, so allow time to gaze through the 12-inch refracting telescope on the roof and to tour the exhibits inside before heading out to view the golden glow of the city.
Runyon Canyon
This is a great spot to visit if you are feeling like having an outdoor adventure. The 160-acre park at the eastern end of the Santa Monica Mountains has a large number of dirt hiking trails. It is not unusual to see celebrity trainers with clients running these trails in the early morning hours. Be prepared, though, it can be quite a workout to reach the top, but the payout is some of the best views of the city once you are there.
The Bradbury Building
If you are interested in architecture, this is a noteworthy historical stop. The exterior of the building is not necessarily something to behold, but the inside is an alley of wood, brick and stunning ironwork detail. You cannot explore much of the space, as it is mostly a private office building, but the view from the ground floor makes it well worth the stop.
There are just a handful of free spots available to you in and around Los Angeles. With a bit of digging, you can uncover many more. Have fun exploring this city of Angels.